After a week where the Jays gave up 45 second-half points at Butler and 55 to Xavier — the latter turning a 17-point halftime lead into a 10-point loss — Creighton heads out east for what will likely be their toughest road trip of the season. In the span of four days, they'll play at #17 Connecticut and at Seton Hall.
After those Jekyll-and-Hyde performances, Greg McDermott said on his postgame radio show that finding more consistency is the next step in this team's growth. "Our ceiling is what you saw in the first half, but unfortunately our floor is what you saw in the second half," he noted. "Experienced teams, the gap between the floor and the ceiling isn't as big. With us, it's huge. We have to narrow that gap."
First up is the UConn Huskies, who've won five in a row by an average of 14.8 points. Their four losses this season have come by a combined 14 points to postseason contenders Michigan State, West Virginia, Providence and Seton Hall. And they're the only team (so far) to beat #1 Auburn, who sit at 20-1 as the calendar flips to February. They have a senior point guard (RJ Cole), three senior wings (Tyrese Martin, Isaiah Whaley, and Tyler Polley) and one of the best young players in the league in the middle — 6'9" sophomore Adama Sanogo.
UConn is one of the best teams in America at sealing off the paint. They've blocked an incredible 17.4% of opponent's shots (4th best in D1). Opponents have made just 40.7% of two-point shots against UConn's defense — nearly a full 10% less than the D1 average of 49.6%. That's also 4th best in D1. Simply put, you're not going to be able to score consistently at the rim against the Huskies.
Opponents have made 33.5% of their threes against UConn, which is right at the D1 average. Creighton is going to have to shoot at least that well to give themselves a chance in this one, and that's a concern — the Jays are 11-for-60 from three-point range the last three games (18.3%).
Part of what makes UConn's interior defense so stout is that their length and quickness can be suffocating in the halfcourt. They collapse on the ball when it gets into the paint, and rely on that length to allow them to recover if you kick it out to the wing (or deflect the pass). They fight through ball screens and often blow up an opponent's movement altogether. If you can beat them down the floor, though, you can avoid all of that — Creighton beat UConn three times a year ago by running in transition every chance they could, and scoring before UConn could set their defense.
That's easier said than done, because UConn ranks second in D1 in offensive rebounding — they've secured a board on a whopping 38.8% of their missed shots. Needless to say, if you can't clear the defensive glass you can't run. And there's almost no one better than UConn at preventing you from doing that. Creighton remembers all too well what the Huskies did in Omaha a year ago — eight offensive rebounds in the first six minutes. A veteran Bluejay team was able to regroup and overcome that. A young Bluejay team on the road seems unlikely to do the same.
Senior point guard RJ Cole leads the Huskies in scoring (16.1 points), assists (4.6), and steals (27 in 19 games). He's the only player among their top seven to stand shorter than 6'5", but that doesn't mean he's any less of a bruiser — Cole has drawn the most fouls on the team, and the most charges defensively. Twice this year, he's drawn four charges in a single game, and has 17 for the year.
Cole is an 89% free throw shooter (75-of-84). He's a capable scorer from everywhere, and as their primary ball handler the fact that he's had just 33 turnovers in 624 minutes played tells you everything you need to know about how sure handed he is.
Sophomore Adama Sanogo is all over the Big East leaderboard, ranking eighth in scoring (15.5 points per game), second in rebounding (8.4), second in field goal percentage (53.3%) and fourth in blocks (2.3). At 6'9", 240 pounds Sanogo runs the floor more like a guard than a big man, and covers up a lot of things defensively at the rim. The one thing he doesn't do is shoot jumpers, which means UConn won't be able to drag Ryan Kalkbrenner out to the perimeter defensively — Big East teams have done that with increasing frequency to get the shot-blocker away from the rim.
6'6" senior Tyrese Martin is third on the team in scoring at 13.6 points, and second in rebounding at 6.7 boards per game. He doesn't take a ton of threes (just 26% of his total shot attempts), but he's been incredibly efficient on the ones he does take (19-of-43, 44.2%). That keeps defenses honest against both him and the rest of the Huskies.
6'9" senior Tyler Polley averages 8.5 points in a super-sixth man role where he subs at three positions. Though he's usually the fourth or fifth offensive option, he's an effective scorer from all three levels, and had a career game against #1 Auburn — he scored 24 points on 6-of-9 from three-point range.
---
Tip: 5:30pm

Venue: XL Center, Hartford, CT

TV: FS1

Announcers: John Fanta and Bill Raftery
In Omaha: Cox channel 78 (SD), 1078 (HD); CenturyLink Prism channel 620 (SD), 1620 (HD)
Outside Omaha: FS1 Channel Finder
Satellite: DirecTV channel 219, Dish Network channel 150
Cable Cutters: Available on all major streaming platforms
Streaming on the Fox Sports app and website

Radio: 1620AM

Announcers: John Bishop and Taylor Stormberg
Streaming on 1620TheZone.com and the 1620 The Zone mobile app
Satellite radio: XM 381; SiriusXM app 971
---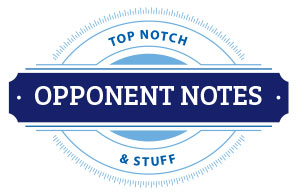 In 19 games this season, the Huskies have already had 8 games in which five players scored in double figures. In the entire season last year (23 games), that only happened twice.
RJ Cole had nearly half of the Huskies' points in their last game. He had 25 points and 5 rebounds to carry the Huskies to a 57-50 win at DePaul in Wintrust Arena on Jan. 25. UConn trailed at halftime, 29-28, but held DePaul to 20.0% shooting in the second half to secure the win.
UConn ranks in or near the Top 20 in several Division I categories. The Huskies rank 2nd in both blocked shots per game (6.9) and total blocks (132). UConn is 3rd in offensive rebounds per game (14.53), 9th in rebound margin (8.3), 10th in scoring margin (15.4), 15th in field goal percentage defense (38.5), and 23rd in offensive scoring (79.4).
---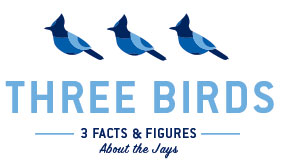 After shooting a combined 38-for-46 (82.6 percent)from the line over the last three games, Creighton has climbed to 72.0 percent shooting at the free throw line for the season. That's a significant improvement over last year's team that ranked 322nd nationally with 64.0 percent marksmanship at the stripe.
Creighton is scheduled to play nine games in the shortest month of the year, February. If everything takes place as planned, it'd be CU's first month with nine games since January of 2017, when the Bluejays went 7-2. The last time Creighton played nine games during the month of February came in 2009. That Bluejay squad went 9-0 in those games, winning by an average of 11.67 points per game, en route to a Missouri Valley Conference regular-season title.
Tuesday's game at UConn will be Creighton's 20th contest of the season. With 12 wins so far this year, Creighton is assured of being .500 or better after 20 games for the 26th time in the last 27 seasons (including 2021-22).
---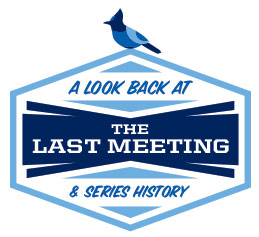 Creighton is 3-0 all-time against UConn, with all three meetings taking place last season. Creighton won 76-74 in overtime at Storrs in December, triumphed 74-66 in Omaha in January and won a 59-56 nailbiter in New York City at the Big East tourney.
Neither team ever led by more than 12 points at any time in any of the 125 minutes over three meetings last season, which included 26 ties and 21 lead changes. In the game played in Connecticut (Storrs), Creighton trailed by four points with 21 seconds left before eventually forcing overtime when Damien Jefferson scored with 0.2 seconds left in regulation.
---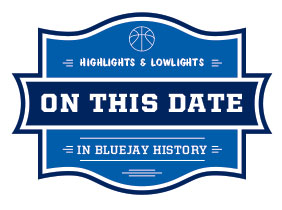 On February 1, 2012 the 12th ranked Bluejays thumped Illinois State 102-74 to move to 21-2 and 11-1 in the Valley. From Ott's Thoughts after the game:
"Things started well for Creighton Wednesday, and only got better as the night wore on. Grant Gibbs reached deep into his bag of playground hoops tricks, threw the ball of a defender's turned back on an inbounds play, and laid the loose ball up for Creighton's second hoop of the night. The evening ended with Ross Ferrarini hitting back-to-back triples to hit the century mark and fellow Bench Mob member Matt Dorwart knocking down two free throws to push CU's total to 102 points. In between, the Bluejays treated fans to arguably the best offensive performance in recent program history.

hyperbole? hardly. It wasn't just shooting 56% from the field, 52% from three-point range, and 84% from the free throw line. It was passing up good shots for great ones. It was the effectiveness of almost every lineup combination Greg McDermott put on the court. It was his son, Doug, having a monster game (again), while guards Gibbs and Antoine Young (7 assists apiece) facilitated an efficient offensive machine.

The Bluejays assisted on 22 of 31 made baskets, while committing just 9 turnovers. Led by McDermott's 25 points (on 9-11 shooting, including a perfect 3-3 from three-point range), six CU players hit double-figures in points. Gibbs added 12 points to his 7 assists and 4 rebounds. Gregory Echenique played only 17 minutes put scored 10 points and grabbed 6 boards. Jahenns Manigat shook off some tenderness in his knee and knocked down 3 of his 4 three-pointers en route to 11 points. Josh Jones scored 10 points off the bench, and Will Artino scored 11 points without missing a shot from the field (3-3) or the charity stripe (5-5)."
---
The Bottom Line:
Creighton is a double-digit underdog tonight both in Vegas and in KenPom's predictive metrics. They're not given much of a chance to win tonight, and in all honesty, seeing how they respond to last week's two losses is what I'm most curious about. A blowout loss and things might start to snowball on a young group.
I do think they'll pick themselves up off the mat and respond with a good game. I also think it won't be enough against a really good UConn team.
#17 Connecticut 73, Creighton 64