A bass audition for the Milwaukee Symphony Orchestra was to be Kaden Henderson's first orchestral audition in almost two years due to the pandemic.
For the flight to Milwaukee, Wisconsin, from Portland, Oregon, Henderson had his double bass securely strapped inside its soft case and packed within a 7/8 David Gage flight trunk.
Once arriving at the Milwaukee airport around 11 PM, Southwest Airlines staff announced that any oversized luggage would take extra time to arrive as they only had one person unloading and sending it all up to the baggage claim area.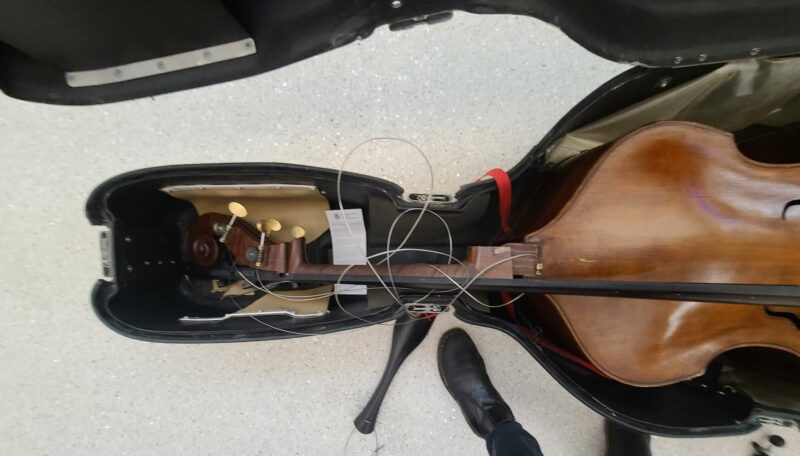 "Once I heard [this announcement], I was immediately worried if my instrument would be handled properly," Henderson told The Violin Channel. "Once my bass was brought up I opened up the flight case, as usual, to check if everything was okay and found that the bass was still properly strapped in from when I repacked it after the TSA inspection in Portland.
"[But as] I stood the instrument up to unzip the softcase I immediately knew something was wrong," he continued. "When I put my hand on the heel of the neck to stabilize it I felt the scroll and realized the extent of what had happened.
"Upon removing the soft case I found the neck had been completely snapped off due to what I can only assume was a massive drop of the bass by baggage handlers directly onto the scroll."
Henderson has flown exclusively with Southwest Airlines for years and never faced issues with how his bass was handled by them until now. Upon assessing the damage, he was told to submit photos of the damage to an online portal so he could be compensated by the airline.
The repair bill for the extent of the damage amounts to over $12,500, however, when he received the airline's response, it stated that the maximum they would cover is $3,800 in damage to the instrument.
While his bass is insured and undergoing professional repair, the compensation by the airline in no way covers lost paid opportunities because of the auditions but also ones that could have resulted from them.
Henderson advises that musicians have their instruments insured on flights as a precaution. "I hope moving forward that Southwest Airlines will do more to ensure the safety of the instruments that we entrust them with," he said.
"They need to understand that every instrument is unique and is not something that can easily be replaced or quickly fixed. Our instruments are our livelihood and when we travel, we are entrusting the airline with not only our instruments, but with our financial well being."
"I do want to say that the amount of people who have reached out and expressed their support during this time has been absolutely incredible," he added. "People have reached out to me from every corner of the classical music world to offer up support and consolation and that has truly been the most heartwarming thing about this nightmare."
Henderson plays with the Oregon and Philadelphia Symphony Orchestras. He and his wife Mariya, also a double bassist, play on modern American double basses made by Nick Lloyd of Cincinnati, Ohio.