Singapore Airlines has signed a contract with US conglomerate General Electric for the latter to provide a further 22 engines for its Boeing 777X aircraft. The companies had already previously agreed on a deal for 40 examples of General Electric's GE9X turbofan. A 12-year services contract also forms part of the agreement.
An additional order
Earlier today, US-based engine manufacturer General Electric announced that Singapore Airlines had signed a deal of a further 22 of its GE9X high-bypass turbofans. This design is a development of the company's GE90, which sees use on the Boeing 777. Correspondingly, the new GE9X is set to be used on the 777X.
The newly announced deal is valued at around $2.8 million. In addition to the aforementioned 22 next-generation engines, the package also includes a 12-year General Electric services contract known as TrueChoice. Regarding the announcement, GE9X program general manager Mike Hoffmeister stated that:
"Singapore Airlines has been a long-standing customer, and we are proud to continue to grow our relationship. The GE9X engine offers a combination of power and fuel efficiency that is unmatched in its class."
Sustainability is a key focus
As Simple Flying explored last October, Singapore Airlines is one of the Boeing 777X series' largest customers. Overall, it has 31 examples of the next-generation widebody on order, all of which are examples of the larger 777-9 variant. It purchased the first 20 of these back in June 2017, alongside 19 787-10 Dreamliners.
Correspondingly, it had already ordered 40 General Electric turbofans to power these modern twinjets. It added the remaining 11 777-9s to its order in February 2021, bringing the total to 31. The 22 extra GE9X engines that it has just purchased will go on to power these, helping Singapore Airlines to increase its sustainability.
Indeed, efficiency and environmental factors have played a key role in the 777X's development, a sentiment that extends to its engines. General Electric explains:
"The GE9X is infused with the latest technology from GE's toolbox, including heat-resistant Ceramic Matrix Composites (CMC) materials, additively-manufactured parts and lean-burn combustion that helps improve fuel efficiency."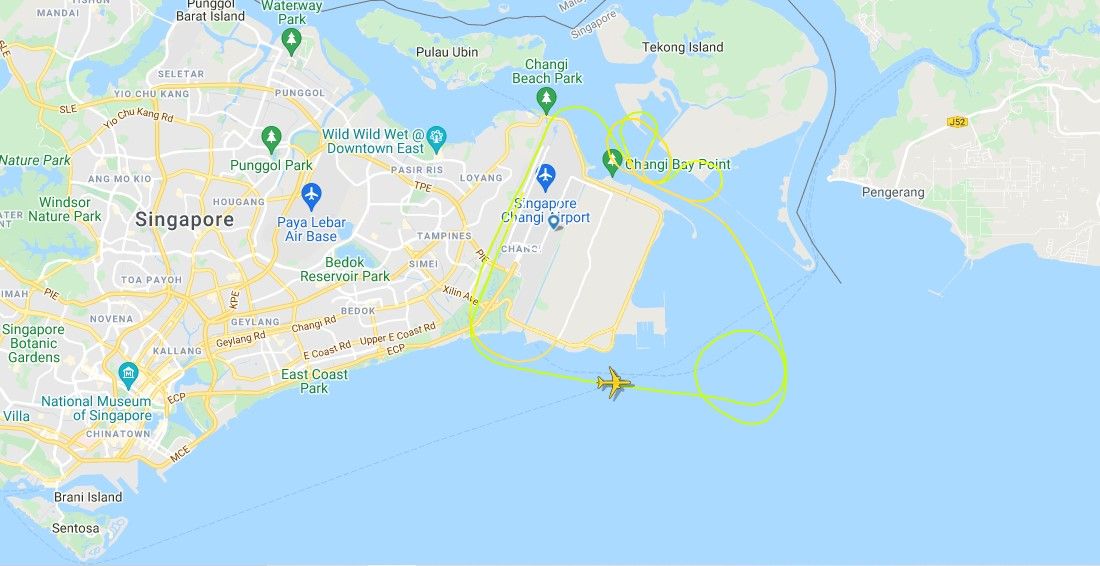 Singapore Airlines also welcomes the chance to reduce its emissions through the use of the GE9X. Its Senior VP of Engineering, Lau Hwa Peng, stated:
"The cutting-edge technologies that have gone into the Boeing 777-9 and the GE9X engines will help SIA to increase our operating efficiencies, lower our fuel burn, and materially reduce our carbon emissions. This will reinforce SIA's position as a leading global airline , and enable us to capture future growth opportunities."
stay informed: Sign up for our daily and weekly aviation news digests.
Boeing is presently showcasing the 777X in Singapore
The timing of General Electric's announcements coincides with a visit to Singapore by a Boeing 777X test aircraft. Registered as N779XW, this 777-9 flew out earlier this month to appear at the Singapore Airshow. According to FlightRadar24.com, it has made three 21-minute test/display flights since arriving last week.
Are you excited at the prospect of the 777X flying for Singapore Airlines? Perhaps you've already traveled on one of the carrier's older 777s? Let us know your thoughts and experiences in the comments!
Booking Surge Prompts Lufthansa To Consider Short Haul 747-400 Flights
Last week was Lufthansa's second strongest for bookings since the start of the pandemic!
Read Next
About The Author