---
ORLANDO, Fla. — A recent trip from Orlando to Chicago provided a snapshot of the positives and issues that shape Amtrak service during a period that has seen the company reduce service on a number of routes, citing a lack of resources.
Tickets were booked using a combination of cash and Amtrak Guest Rewards points on Amtrak's Silver Star to Alexandria, Va., and, after a two-day layover — there is currently no same-day connection — on to Chicago aboard the cardinal.
Amtrak reduced service to five days a week on most long-distance routes in January, while suspending entirely the second Florida-New York train, the Silver Meteor, which uses a different route. the meteor is among the trains included in last week's announcement that many of those reductions would continue past the original March date to restore service [see "Amtrak extends cuts to seven long distance routes into May," Trains News Wire March 3, 2022]†
Coach and sleeping-car capacity was expanded on the Silver Star when the meteor was sidelined. But News Wire found that a lack of active revenue management likely contributed to 16 unsold roomettes overnight in five star Viewliner sleeping cars [see "Continuing Amtrak service cuts reflect lack …," News Wire, March 4, 2022]†
The trip featured onboard personnel that were uniformly friendly and attentive to passengers' needs. Yet it also showed shortcomings that can be rectified if management and employees at all levels would exert more effort in catering to those who invest time and money in Amtrak's product.
Orlando: an hour late but 'on time'
the Silver Star departing Miami on Feb. 24 left on time, but fell an hour behind by the time of its stop at Lakeland, Fla., after serving Tampa.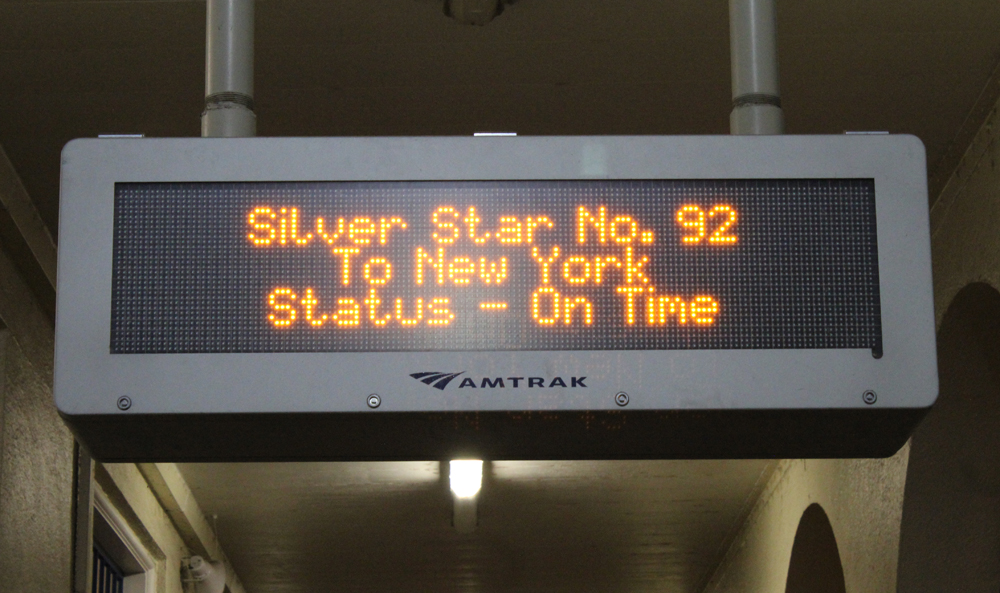 Nevertheless, the train-status feature on Amtrak's website continued to tell passengers that train No. 92 was running on time. That misinformation was transmitted to the Orlando station's departure and public address system, which triggered an automated "now boarding" announcement, although the train was actually an hour away.
A family of four taking its first-ever Amtrak trip ever because its Spirit Airlines flight had been canceled began to gather its belongings, and an Amish couple and others of the more than 30 people waiting to board drifted toward the platform.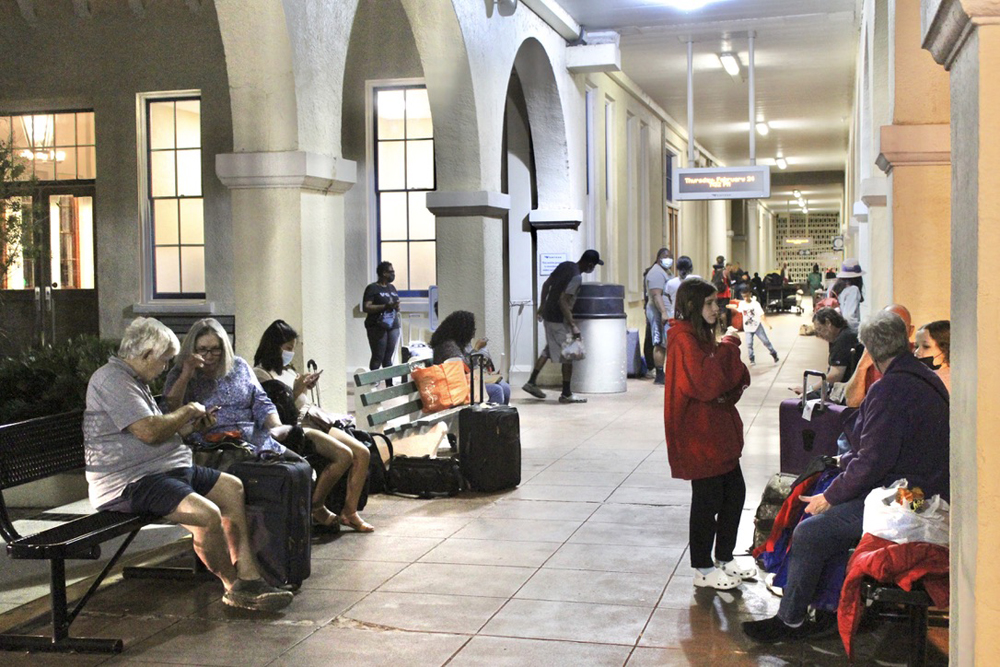 No announcement was made to correct the error. The train, due to arrive at 7:09 pm, wouldn't roll in until 8:08 pm
About 7:55 pm, the on-duty Amtrak agent barked orders for passengers to line up along the station's exterior wall in separate groups of families, couples, and single travelers. A few minutes before that she had advised, "Anyone who needs to use the restroom should do it now, because the station will be closed at 8 pm, before the train gets here." People arriving from South Florida cities who needed to use toilet facilities were apparently out of luck. After all, don't they know closing time is 8 pm?
'Flexible' food and limited space
With only one train to worry about on the Miami-New York route, you would think Amtrak would make a good-faith attempt to make the experience in the Viewliner diner a positive one for customers. The car has been redefined as a "lounge" for sleeping-car patrons, who remain the only travelers allowed to enjoy the landscape rushing past the double set of windows until management figures out when, or if, serving protocols can be altered to include coach passengers.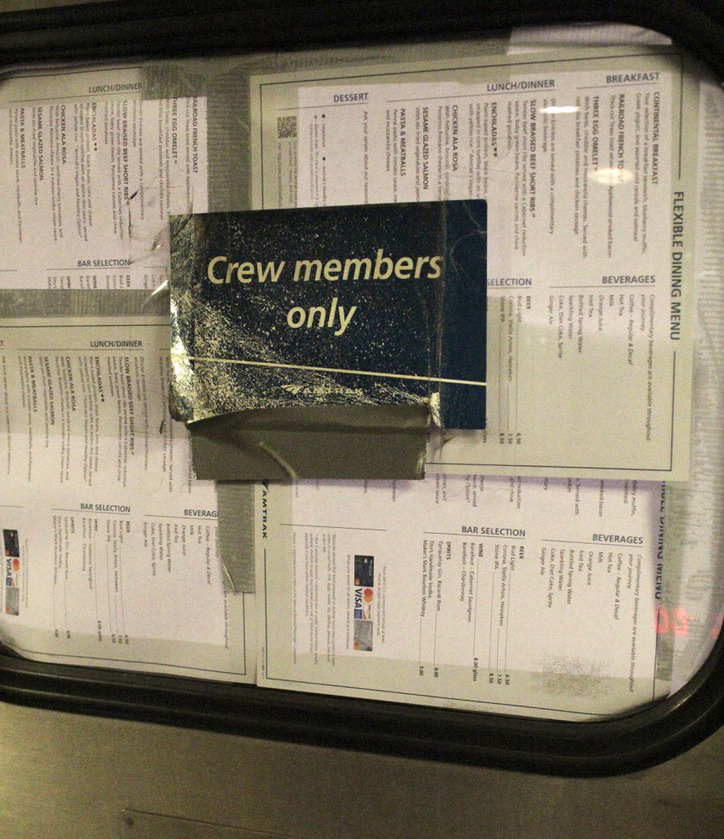 Meal offerings — three breakfast choices and five meal-in-a-bowl options for lunch and dinner — haven't changed in almost a year for eastern trains, the Texas Eagle, and City of New Orleans† Perhaps that's one reason the Silver Star had no menus available in the sleeping cars or dinner until the lead service attendant located one in the largely unused kitchen.
on the cardinal, menus were used to paper over the window of the Viewliner baggage-dorm to ensure privacy for the crew. That train's on-board service and operating crew also commandeered the sleeper-facing half of the cafe car for the whole trip, directing anyone who didn't want to eat a meal in their room to limited seating on the other side of the service counter .
Less than two years ago, the cardinal offered a separate business-class cafe car with lounge space on one half, but this equipment disappeared about the time that Horizon coaches began subbing for several Talgo trainsets in the Pacific Northwest.
crusty windows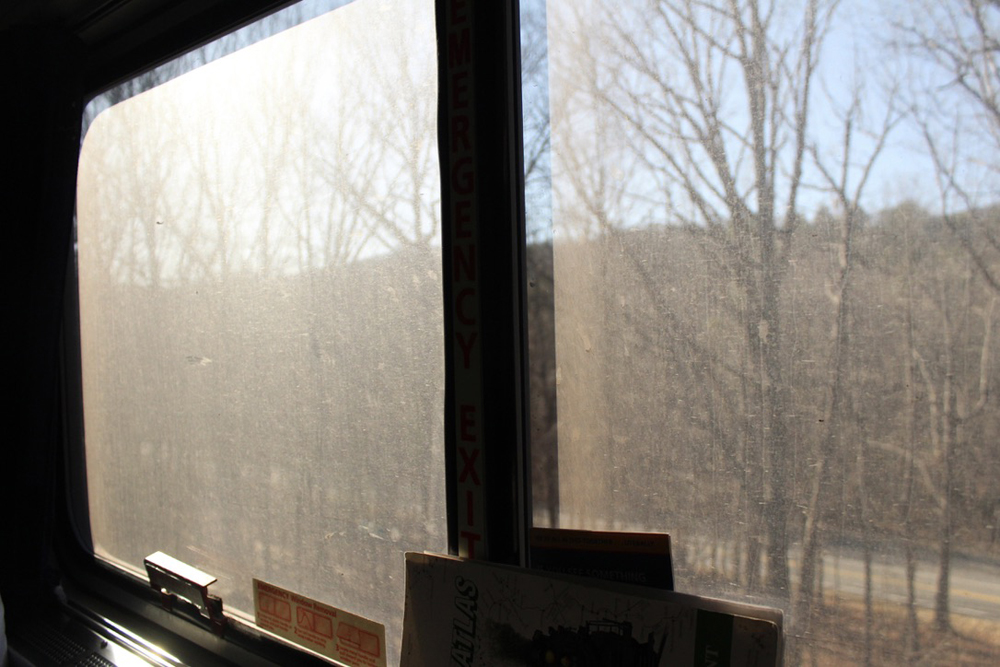 The westbound cardinal and northbound Silver Star showed no evidence that either train had recently been pulled through a washer. The temperature in South Florida was sunny and in the mid-80s all week, and the Chicago-bound triweekly was coming off of a full-day layover at New York's Sunnyside Yard. Clean windows are a relatively inexpensive way to enhance the travel experience, but have proven to be one of the first expendable items at many maintenance facilities. The Chicago washer was out of commission for an extended period last year, apparently because no one considered it a priority.
Missing timetables (and announcements)
the Silver Star delay would lengthen to an hour and a half overnight through the Carolinas, but the trains otherwise maintained travel times. But in the Stars sleepers, no announcements about upcoming stations or arrival time were audible, in contrast to complete information delivered by all cardinal crew.
Amtrak and its host railroads have been required to re-negotiate "certified" schedules for every train to ensure compliance with recent Federal Railroad Administration regulations requiring 80% of passengers to arrive on time. As a result, the most recent timetables, issued in late 2020, have discrepancies at each station ranging from a minute or to a half-hour, depending upon the route.
With this top-to-bottom schedule reshuffling looming, the company had good reason to at least temporarily shelve revisions to the former timecards. But last year management also hinted it was developing printable versions for corridors and routes that could show comparative schedules and more than 10 stations at a time (the current limit of online versions). Completing that initiative — whether for trip planning or the ability for those to answer the question "where are we now?" — is long overdue.
Gas prices are skyrocketing. When this happened in Amtrak's past, beginning with the oil embargo of 1973, it resulted in significant ridership gains across the entire network. Lack of proactive investment in personnel and equipment may have handicapped the company's ability to take fullest advantage of the current situation, but there is no reason easily adjusted customer service aspects can't be immediately addressed.