British train driver spends vacation handing out food to newly arrived refugees
MEDYKA, Poland ⁠— Fara Shojaian, a train driver from the beach town of Brighton in southern England, is using his vacation days to hand out chicken noodle soup to hungry Ukrainian refugees.
Shojaian, 51, is volunteering with World Central Kitchen at the Medyka border crossing in the east of Poland. He arrived on Sunday and will be staffing the soup station for a week.
"Hot food is very important," Shojaian said. "As soon as the refugees come across the border, we meet and greet them and try to give them fresh, hearty food so they can get at least some of their energy back."
Soup is the kind of food that will do that, he added.
"I have friends in Ukraine, I have been there a few times, in Kyiv and Dnipro," Shojaian said. "I needed to be here."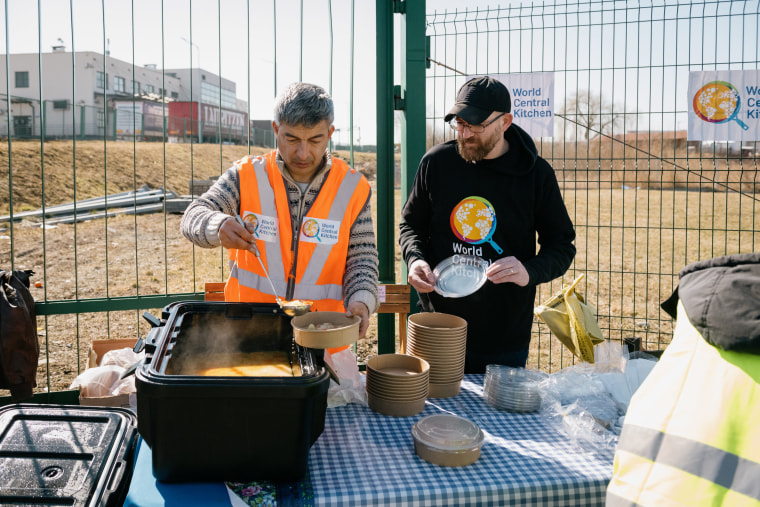 Russian strikes hit residential buildings in Kyiv
Several residential buildings and a metro station in Kyiv have been hit by Russian shelling, according to the city's mayor and emergency services.
Two high-rise buildings in the Sviatoshyno area and one in the Podil neighborhood of Ukraine's capital were directly hit by shelling while a nearby metro station was damaged by shock waves, Mayor Vitali Klitschko said on his official Telegram channel Tuesday morning.
The shelling ignited a fire at one 16-story residential building, killing four people according to the city's mayor and forcing 46 people to be evacuated from their homes, according to the SES.
NBC News has verified video showing damage to the building, but has not confirmed the number of deaths.
Russia has consistently denied targeting civilians.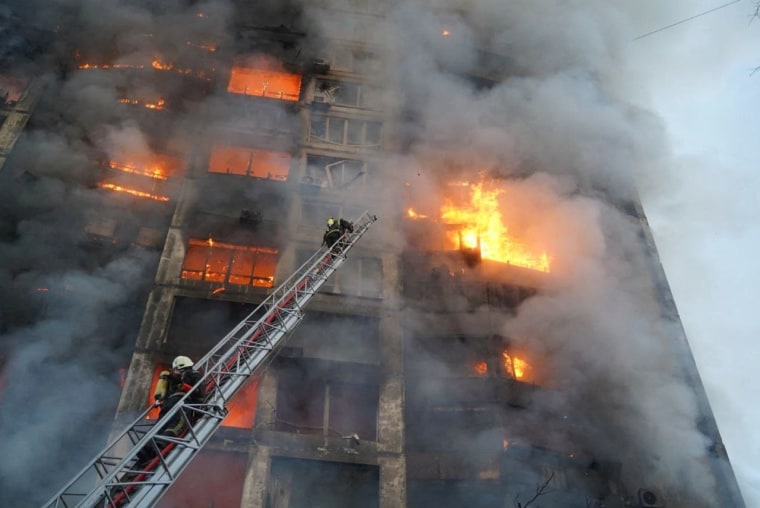 Japan sanctions 17 influential, wealthy Russians
Japan on Tuesday said it would freeze the assets of 17 Russians, bringing the total of those targeted by the country in response to the invasion of Ukraine to 61.
According to a statement on the Finance Ministry's website, among those on the updated list are billionaire Viktor Vekselberg, 11 members of Russia's Parliament the Duma, and five family members of banker Yuri Kovalchuk, widely reported to be close to President Vladimir Putin.
The move comes after the United States on Friday imposed sanctions on Vekselberg and 12 Duma members.
European leaders to visit Kyiv, meet Zelenskyy in show of support
The leaders of Poland, the Czech Republic, and Slovenia are traveling to Kyiv, Ukraine's capital which is currently under fire, on a European Union mission to show support for the country as Russia's invasion intensifies.
"The aim of the visit is to express the European Union's unequivocal support for Ukraine and its freedom and independence," Czech Prime Minister Petr Fiala said in a tweet†
He said they would meet with Ukrainian President Volodymyr Zelenskyy during the visit on Tuesday.
He will be joined by Slovenian Prime Minister Janez Janša, Polish Prime Minister Mateusz Morawiecki and Jaroslaw Kaczynski, who is the Polish deputy prime minister for security but also the conservative ruling party leader.
Russia's offensive in Ukraine edged closer to central Kyiv on Tuesday, with a series of strikes hitting a residential neighborhood in the capital as the two countries planned a second day of talks.
World Bank announces additional $200 million in funding for Ukraine
The World Bank said Monday it had approved almost $200 million in additional and reprogrammed financing to support Ukraine's essential social services.
The money comes on top of $723 million in emergency funding the bank has mobilized, of which $350 million has been disbursed to Ukraine, the bank said in a statement. It is part of a $3 billion package the bank says it is preparing over the coming months.
"The ongoing war continues to have severe human costs and has created financing gaps that jeopardize the ability of vulnerable people in Ukraine to meet basic needs," World Bank President David Malpass said.
The total funding mobilized by the World Bank also includes a multi-donor trust fund that has grown to $145 million after an $11 million contribution from Austria, the bank said.
Satellite images appear to show devastation of invasion on town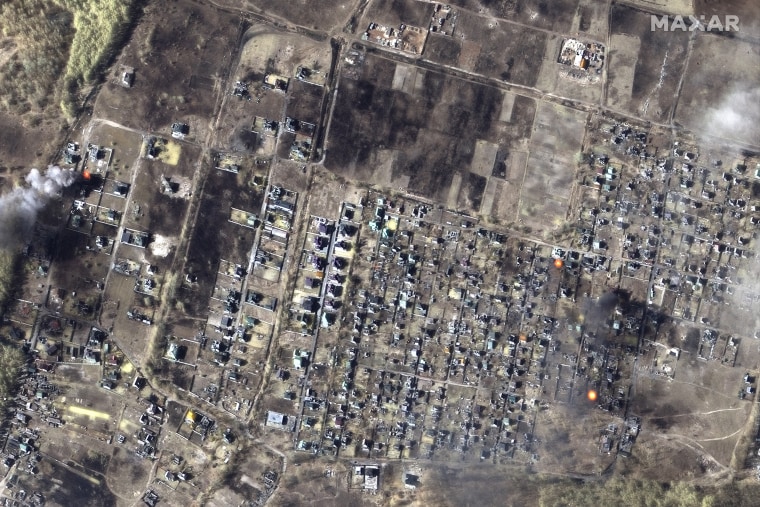 Satellite images from a town northwest of Kyiv appear to show the devastation of the Russian invasion, with numerous buildings and homes that have been damaged or destroyed and multiple structures in flames.
The images, released late Monday by the US government-linked technology firm Maxar, show the town of Moschun, roughly 45 minutes from central Kyiv.
Wide swaths of the town appear blackened, and smoke can be seen rising from different structures.
The images were released as Russian forces continued to advance on the Ukrainian capital. An attack on a high-rise early Monday left one person dead and seven injured.
As of Monday, the United Nations had recorded more than 1,700 casualties since Russia invaded Ukraine last month, including 636 people who have died. The true death toll is likely to be far higher, especially in areas where fighting has intensified in recent days, the organization said.
Ukrainian president claims Russia has lost more military equipment than in both Chechen wars
Ukrainian President Volodymyr Zelenskyy claimed Monday that Russian forces had lost more military equipment in nearly three weeks than during both of their invasions of Chechnya, the small republic in Russia's southwest that endured years of bloody conflict and destruction beginning in the 1990s.
Saying Ukrainian soldiers were inflicting "devastating" losses on invading troops, Zelenskyy seemed to taunt his neighbors, saying: "Today, the Russian military is practically one of the providers of the military equipment for our army."
NBC News has not independently confirmed the remark, and it isn't clear whether figures provided by Ukraine's armed forces are accurate.
According to numbers published Monday by the Kyiv Independent, a local news site, Russia has lost nearly 400 tanks, 90 helicopters, 1,249 armored personnel carriers, 77 planes and other equipment.
The former commanding general of US Army Europe, Mark Hertling, has said that if the accounts of Russian losses are "even close" to being accurate, "they are disastrous."
A study included in the Marine Corps' amphibious warfare school found that In the first Chechen war, which lasted for two years in the mid-1990s — and which military scholars describe as devastating for Russian forces — the invading military lost nearly 90 percent of its 120 tanks in a single battle.
Another account, published in an Indian defense journal, reported that the military lost every 10th helicopter. Every fourth aircraft was damaged.
Reports of the death toll from the conflicts vary widely. Human rights groups and official accounts say tens of thousands of people were killed, many of them civilians.