Alaska Airlines is making San Jose Airport a hub of commercial aviation innovation with iPads, biometric scanning and more.
Alaska Airlines is actively working to reduce the time its passengers spend in airport lobbies. Even though Alaska Airlines has for years kindly offered remote check-in, passengers still need to be able to drop off bags and be verified at the gate. Alaska Airlines is starting to roll out innovations at San Jose International Airport (SJC) to serve as an incubator for future passenger experience developments.
iPad Pros for check in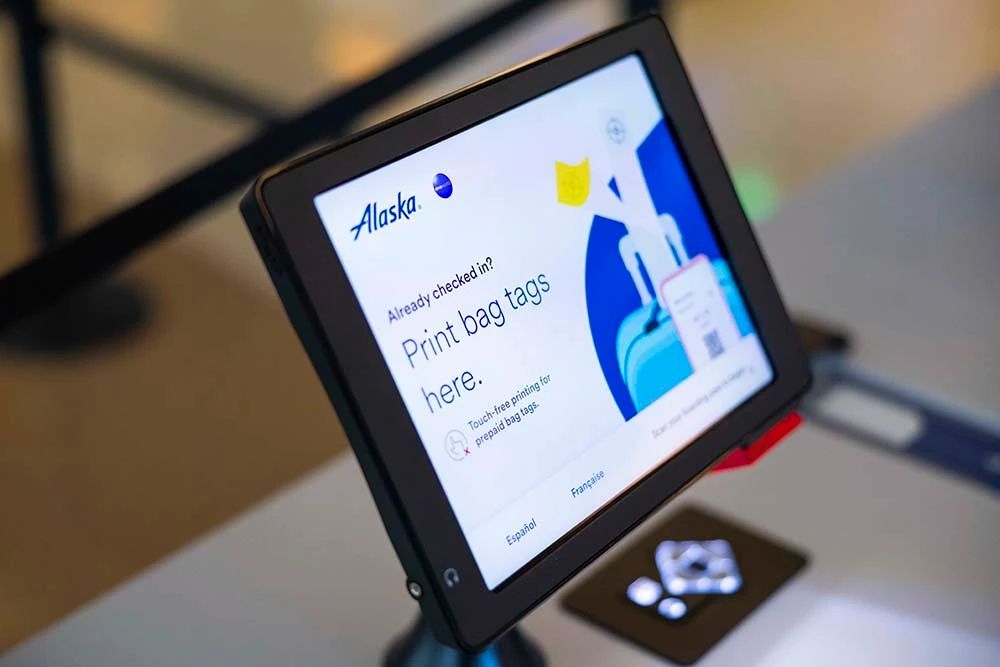 Yes, you can now use an iPad pro to print out your bag tags at San Jose International
Photo: Alaska Airlines
Alaska Airlines has been using iPads and iPhones for everything. From being the first US airline to use iPads to replace bulky flight manuals to today using them to help also flight attendants, maintainers, and other employees complete their tasks according to the high standards of Alaska Airlines. As interviewed in Fast Company, Charu Jain, Alaska's senior vice president of merchandising and innovation explained,
"What we're doing in San Jose is really testing our lobby vision out and using it as a tech incubator to test various ideas … Building on the iPad, we have been able to say, 'What is that iPad for?' So, rather than build a hundred things, we're really building the things it's meant for at the airport."
Now the iPad is connected to the bag tag printer at SJC so check-in and bag tagging is completed faster. Customer service agents also have been issued iPad Minis to help passengers along in the lobby.
Self bag drop off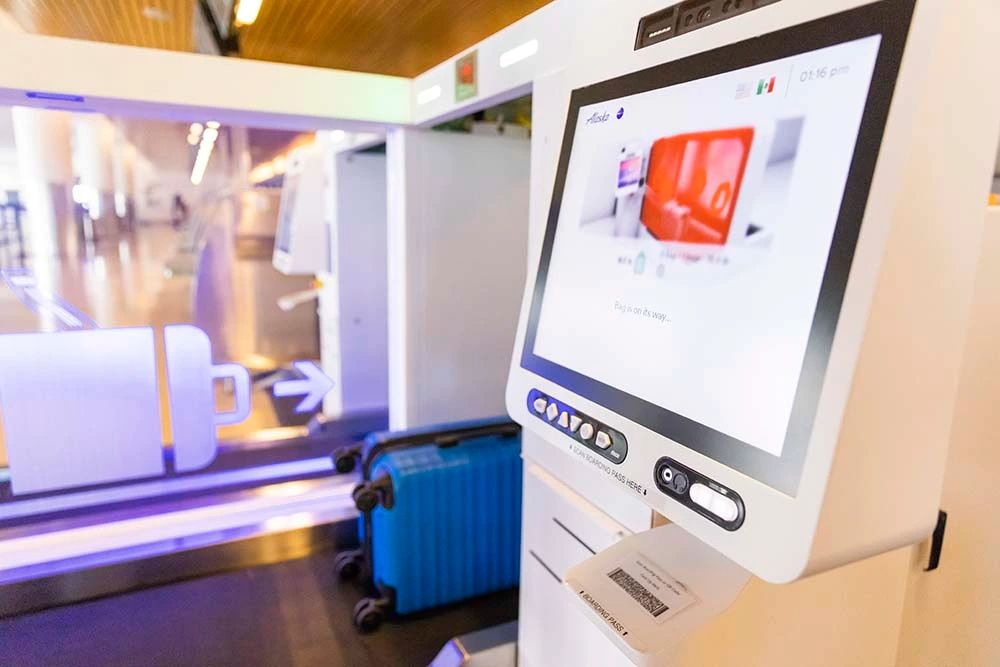 At San Jose International, you can drop off your tagged bags without waiting in line at Alaska Airlines' lobby
Photo: Alaska Airlines
The future of Alaska Airlines' airport lobby experience could very well be passengers dropping off their self-tagged bags instead of handing them off to a human. The machines can now scan the self-tags and get the bags on the right aircraft.
Facial recognition in lieu of a boarding pass?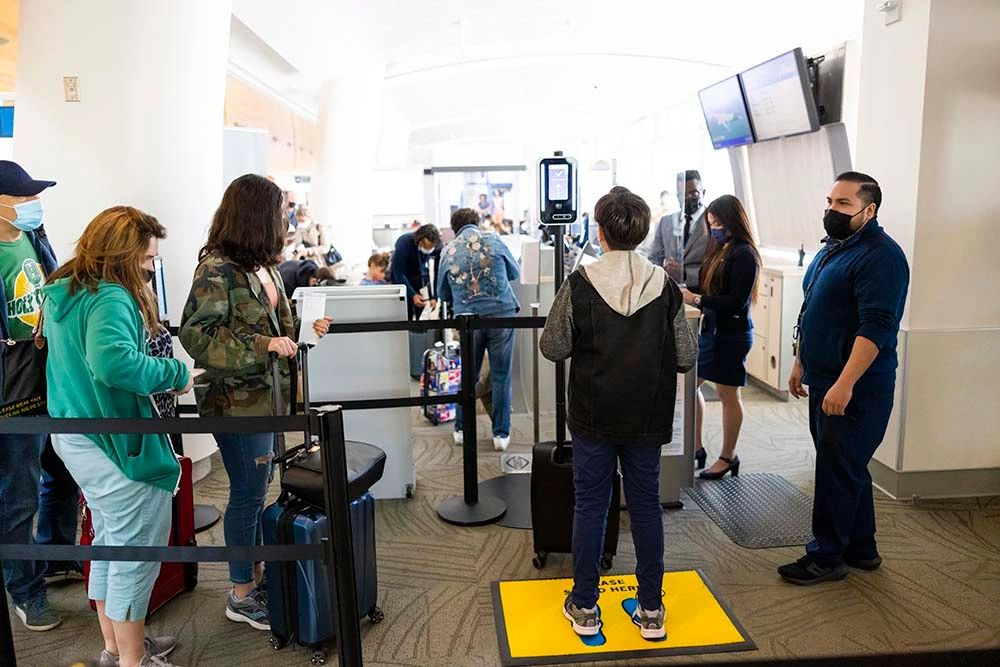 Is a voluntary biometric scan a viable optional alternative to the boarding pass? Alaska Airlines wants to find out.
Photo: Alaska Airlines
Now if you do not have your boarding pass handy, to speed up the boarding line one can now consent to a biometric scan when flying internationally. Lufthansa already has been working on biometric scanning as a boarding option for several years. According to Charu Jain, the Alaska Airlines' biometric boarding pass will always be optional, but is likely to be a popular choice,
"Boarding with biometric technology uses facial recognition to verify identity and shorten security procedures for those passengers who opt into the programs. For guests who are concerned about security, we do not retain any imagery and offer our guests the opt-in option to use biometrics. While it will never be mandatory, we believe it is the future of travel."
Alaska Airlines is a hub of commercial aviation innovation
Alaska Airlines has been a hub of commercial aviation innovation beyond iPads and biometric scanning. This is the same Alaska Airlines that has launched a flight subscription service for California, launched the Ascend Flight Academy to remove barriers to accessing flight training, replaced 7.2 million plastic bottles annually with boxed water, and has an automated pancake machine in its lounges.
As a result of these innovations and others, Alaska Airlines won the Air Transport World 2021 Airline of the Year award from Aviation Week network. The award goes for holistic awesomeness from customer service to fiscal strength to innovation. The award will be presented on June 21st.
Source: Fast Company
Why Qatar Airways Gift A UK Nurse $1 Million
Read Next
About The Author