Gear Reviews are compiled by Surfline's editorial team to give us comprehensive, down-to-earth recommendations on all the amazing stuff that helps us on our mission to score. Read on and check out more gear guides and reviews here. (Note: Our editors independently review and select these products.)
†
The world is finally opening up. For most of us, that means grabbing three or four boards, some wetsuits or boardshorts and a few accessories, and beelining it towards your favorite surfing bolt hole. For that, you'll need a travel boardbag — a protective membrane for your most treasured surfcraft that can withstand the evil swipes of all the Edward Baggagehands lurking in the airports of the world.
Travel boardbags aren't exactly the sexy wedge of the surf market. Technological innovation in that sector hasn't skyrocketed, and yet, you can't travel without 'em. So, it's about time that staple got a tech and design injection.
With a background in producing snowboarding gear, the Norwegian company Db Bags have added some innovation to the traditional travel boardbags in terms of adjustability and compressibility, cloaked it all in a black matte finish, and called it "surf luggage."
Their Djärv 3-4 Surfboard Coffin supposedly balances style with substance, offering proper protection and wheeled mobility — all while looking cool and rolling up nice and compact when not in use — great for schlepping your surfboards from point A to point B with ease.
wait, who?
Having cut their teeth in snowboard and ski gear in 2009, Db Bags entered the surf hardware market in 2018. They call their Djärv 3-4 Surfboard Coffin, "The world's first rib-protected, compressible, wheeled surfboard bag."
To unpack that claim and test the bag myself, I grabbed three dusty boards from the racks and flew from London to Lisbon. From there, I did a five-day road trip, exploring the rugged coast and epic waves from Cascais to Peniche. Each day I threw the bag on the roof of my mate's Land Rover before tackling 4WD trails and rough terrain, and each day, my boards remained unharmed. A few mud tracks and scuffs on the bag, sure, but that was to be expected.
design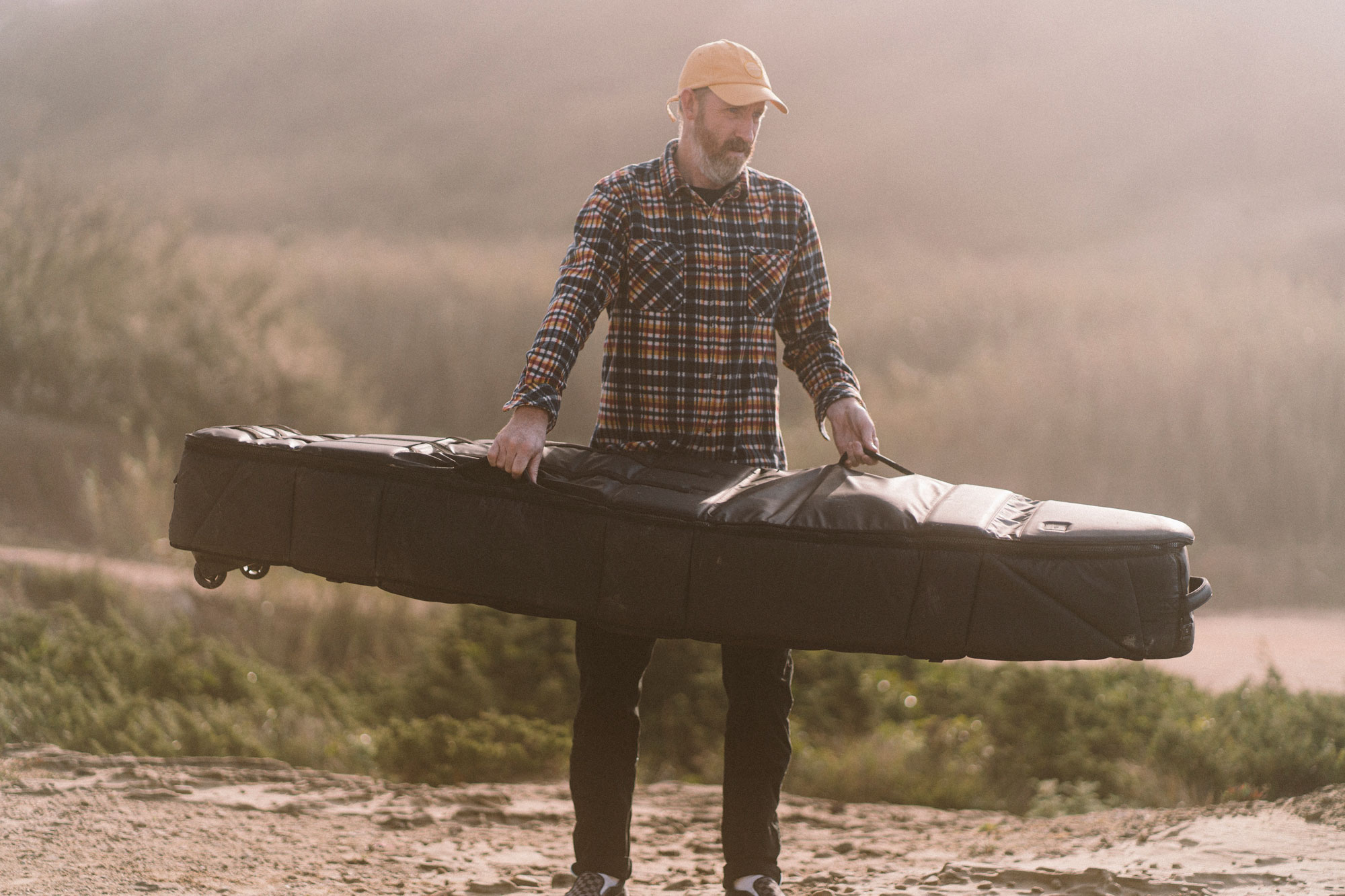 From the sleek, black design to the unique rib technology and foam protection — this isn't a case of style over substance. Though easy to use, this thing is pretty much bomb-proof. Between its wheels and its ability to hook it up with other Db bags or roll itself into a small ball, the bag represents genuine innovation in boardbag technology. Scandinavian engineers (from that same part of the world as IKEA) add value with deft and ingenious design touches.
capacity vs. weight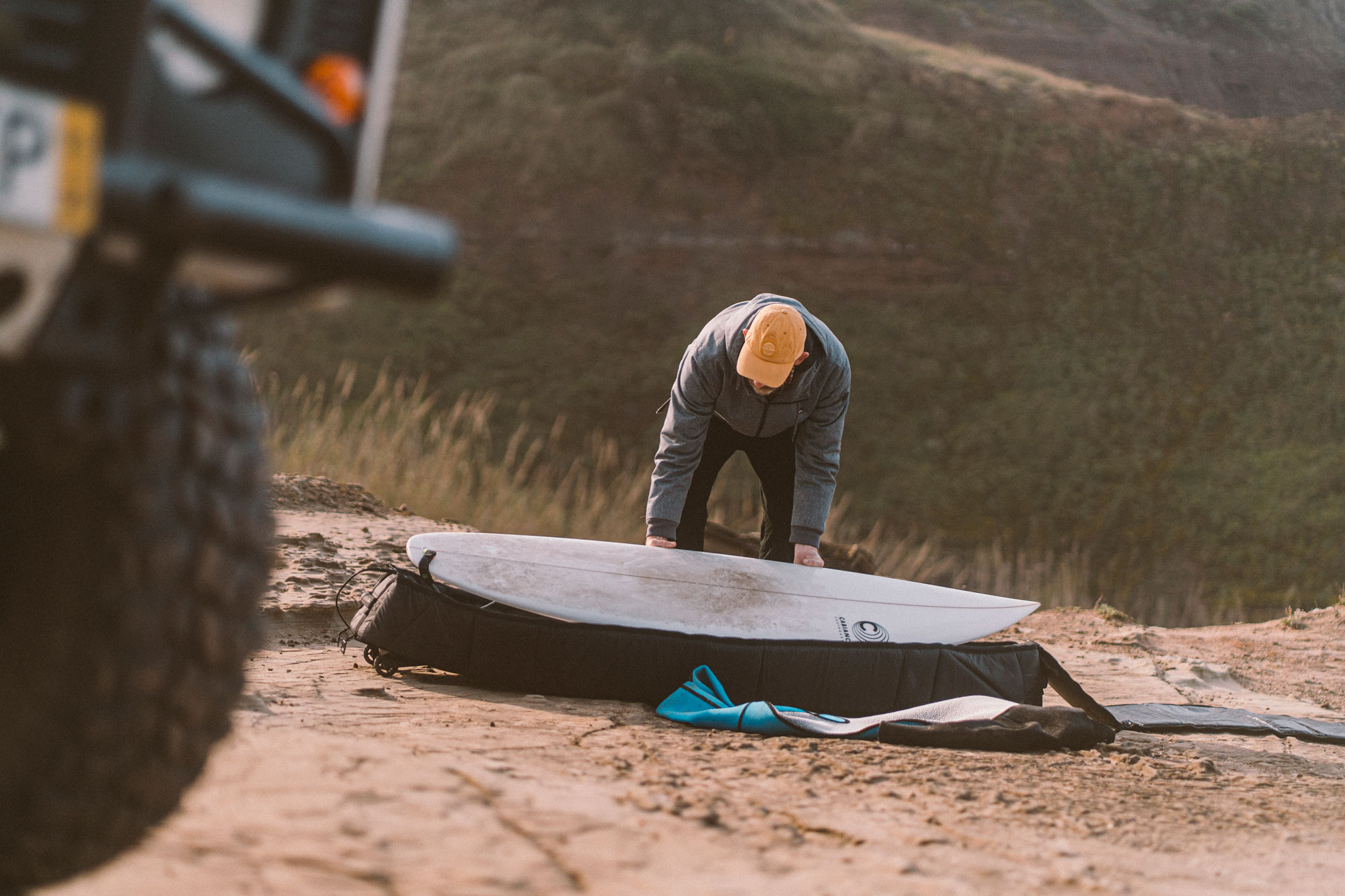 The bag measures 209 cm long x 57 cm wide x 20 cm deep. I packed it with three boards — two standard shortboards and a step-up — ranging from 6'0" to 6'4" with the thickest being 2 5/8" thick. Those who are young or talented enough to ride thinner surfboards could fit four boards. However, it won't hold anything over 6'6", so mid-lengths are out.
Capacity-wise, it's a hefty 238 liters, and even with my three boards, I still had room to pack a 4/3 hooded steamer, booties, leashes, fins and a towel. It also comes with pre-shaped pack bags that allow you to add your soft items (toiletries, first-aid, energy bars, etc.) to create form-fitting protection for your board's most vulnerable areas: the nose and tail. The bag weighs in at 6.58 kg (14.5 lbs), which is on par with most wheeled, triple-to-quadruple coffins on the market.
Durability
The main fabrics and reinforcement fabrics are made with 100% chemically recycled polyester from post-consumer waste, and come in Db's signature blackout finish — a USP that really works. Added protection comes from the Rib Cage technology — a supposedly stronger and lighter protection system, best evidenced by the panels running up the side of the bag. These panels also allow the bag to be folded when not in use. There's also 10mm PU foam padding all around the bag, with 15mm of padding on the nose and tail.
I took two flights, both on Ryanair — who are generally known for their disdain for customers dragging any luggage bigger than a backpack — and none of my boards got so much as a scratch. This may or may not have been due to the asymmetric handles on the top of the bag — another great innovation — which forces baggage handlers to pick up the case with hands on each side rather than by the industry-standard middle handle, preventing handlers from moving the bag with a violent, swinging or pendulum action — a technique that often leads to the bag sailing through the air… never a good look. There is a center handle, but it tucks away, so a handler would have to really go out of their way to put their mitts on it.
Ease of Use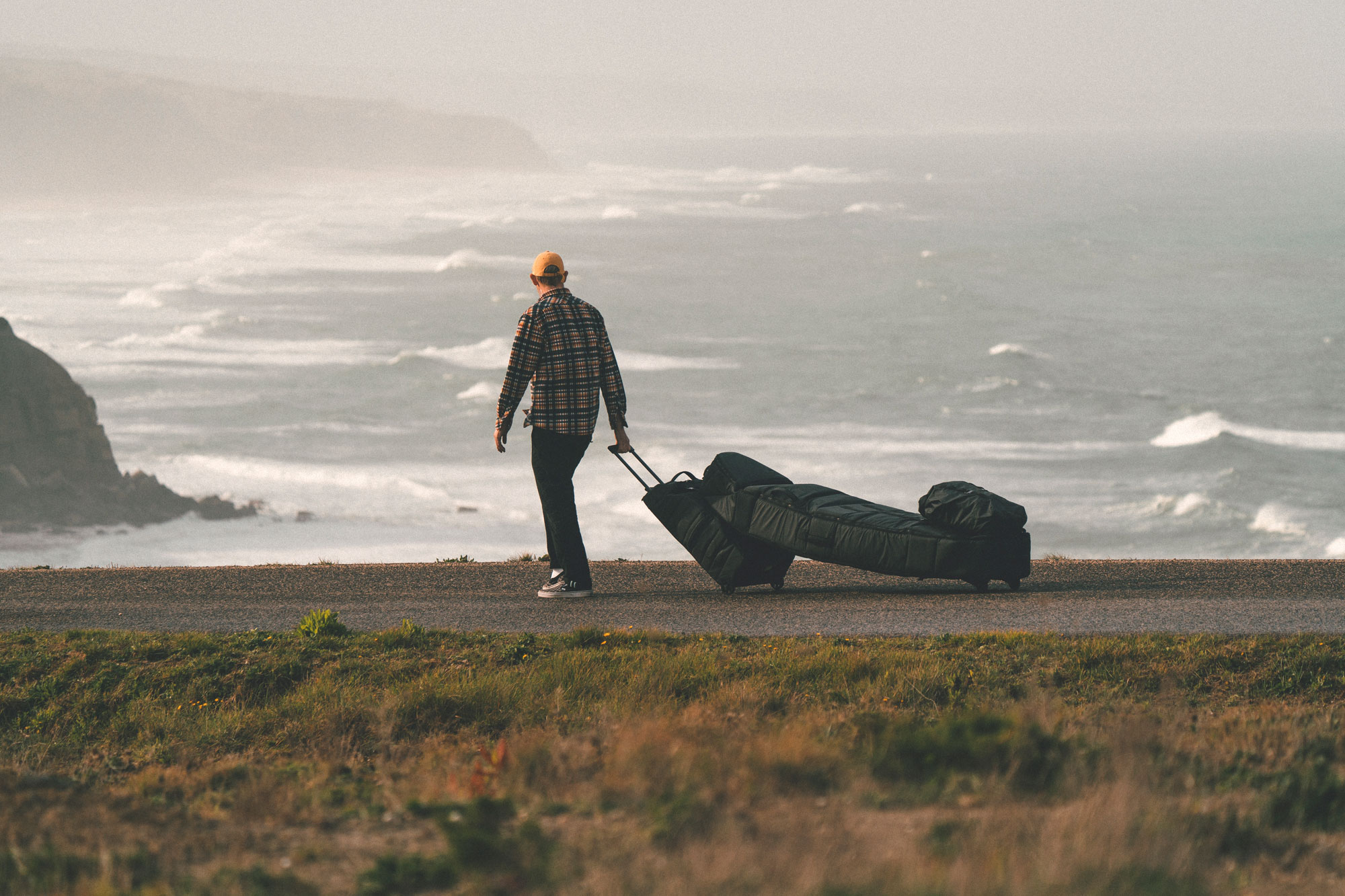 Like twin-fins or long-sleeved springsuits, wheels on a boardbag seemed to go out of fashion for a while there. And if you've ever dragged a triple boardbag, suitcase and backpack through a series of airports, you know why they've come back in style. I swear, I once missed the first two days of surfing on a trip to G-Land, because my side and back muscles were so shot and one of my arms was stretched to twice its size.
Thankfully, the Db Bags Djärv comes with custom-made, heavy-duty wheels. Another welcome addition is their Db hook-up system, which allows you to link all Db luggage pieces together — each with small, metal, strategically placed hooks that slip into fabric loops. By attaching the boardbag to the Db wheeled suitcase, you can transport both with ease, and with one hand. For instance, Lisbon airport is known for its cruel, 600-yard walk from rental car drop-off to check-in gates, so between the hooks and the wheels, Db was an absolute lifesaver. No balancing boards on a trolley, no running over small children, hands free to grab the passport.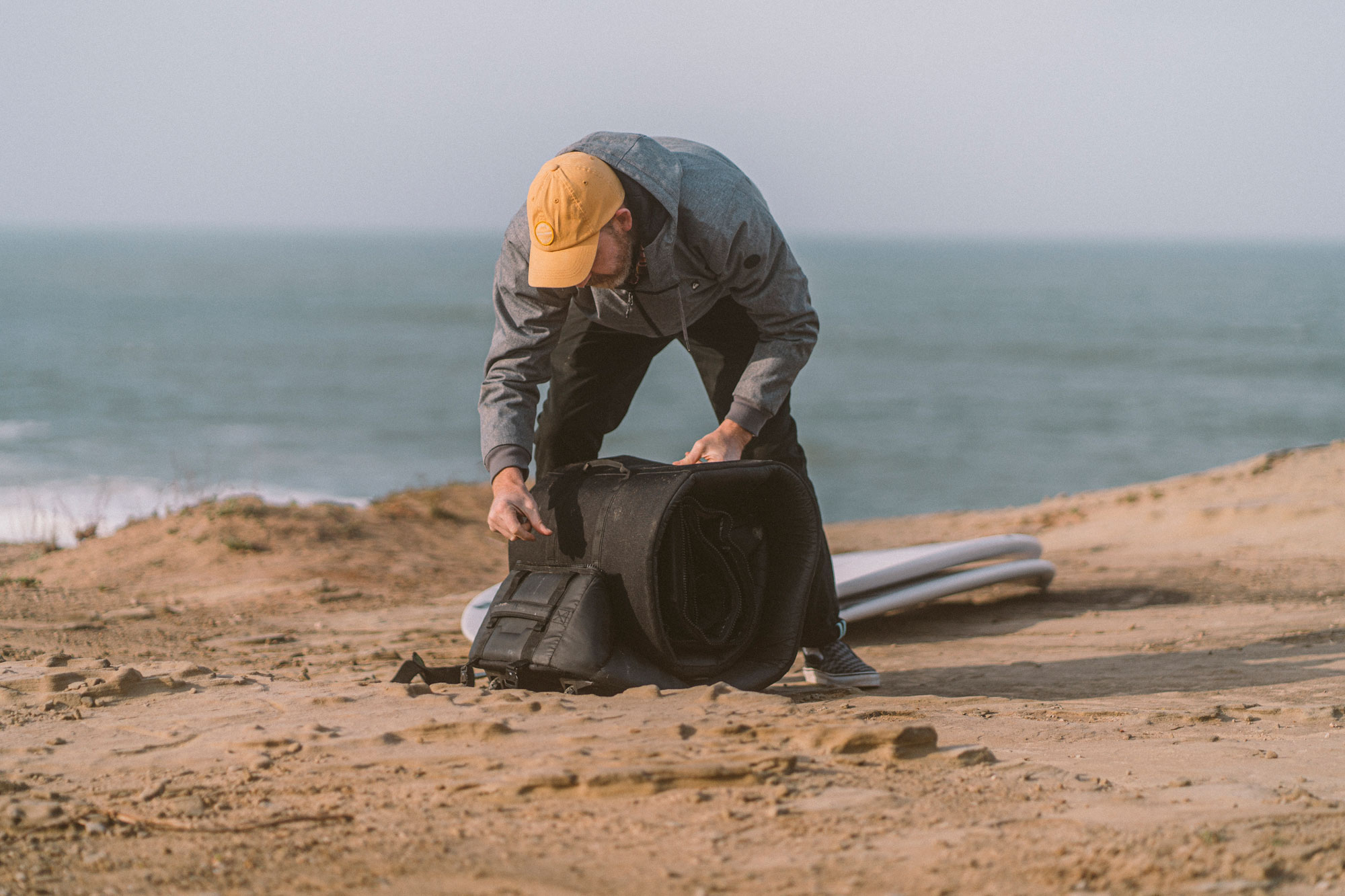 The "collapsible" claim was also verified. The ribbed technology allowed me to roll the bag up and, using the hook-up system, tighten it into a ball. There are clear instructions printed inside the bag, and it took me all of 90 seconds to fold the empty bag to 30 percent of its original size. As I tend to stay in some of the smallest hotel rooms known to man, it's a pretty neat trick for surf trips. After unpacking, I stored the rolled-up bag in the wardrobe in my tiny shoebox of a room.
Verdict

Having spent a week in close quarters with this boardbag, I must agree that this is the world's first rib-protected, compressible, wheeled surfboard bag — a coffin that protects your boards and is damn easy to travel with. For any trip requiring more than two surfboards, where you can expect some punishment in transit, the Db Bags Djärv won't let you down. Aesthetically and design-wise, it must be a market leader. The tradeoff is the price, which comes in at the higher end of the triple-to-quadruple boardbag spectrum. However, when something looks this cool and comes with a lifetime warranty, it's a trade-off well worth investing in. Db says the Djärv 3-4 Surfboard Coffin isn't a surf bag, but rather, surf luggage.
Either way, it's a bit of kit you need in your life.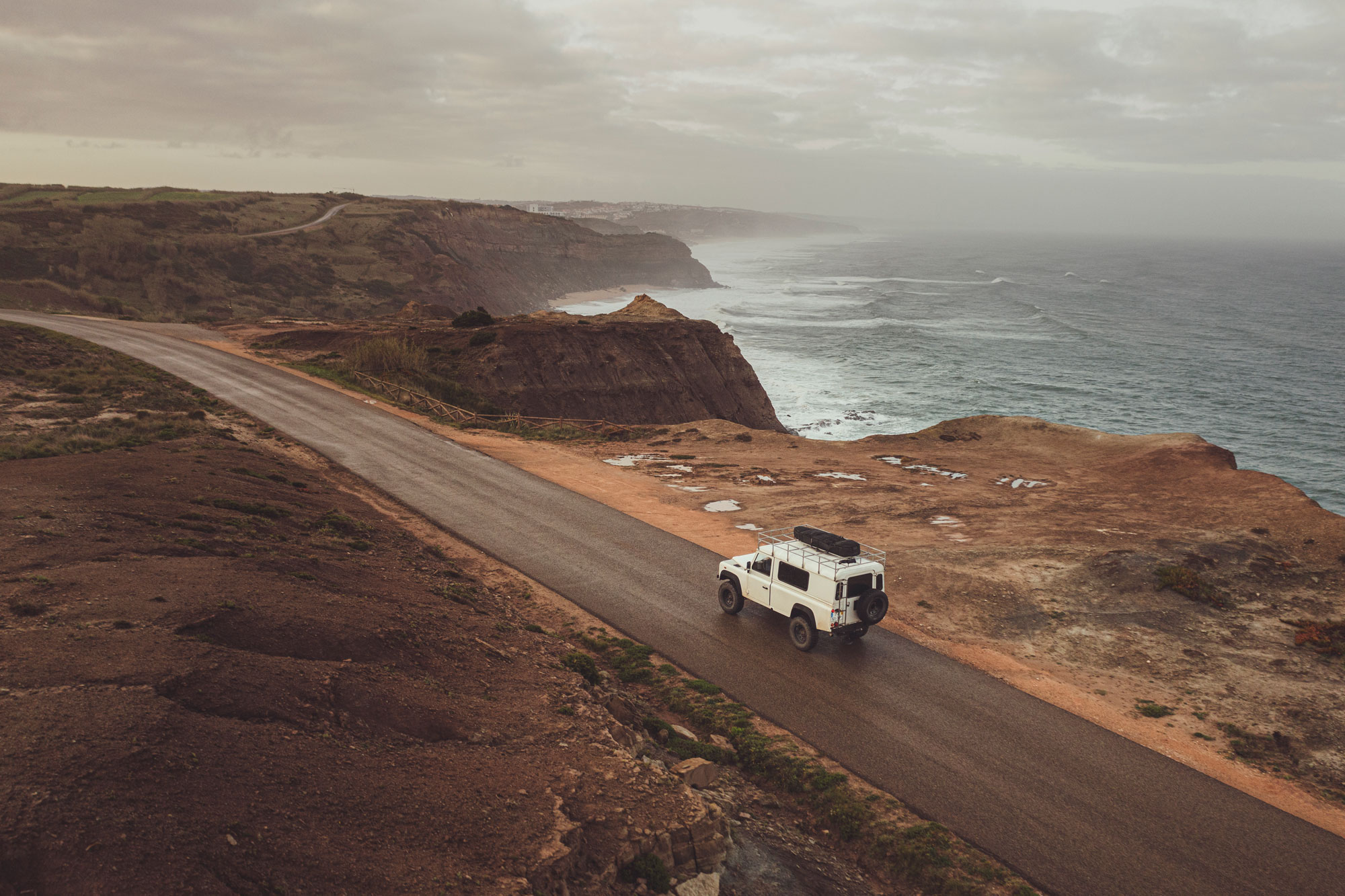 How to Get One
The bag can be ordered online at dbjourney.com. There are also several dealers, mainly surf shops, throughout the USA, Australia and Europe. The bag retails for €399 in Europe, $450 in the USA and $610 in Australia.