Investment Thesis: Hilton Grand Vacations could see short-term downside as a result of the situation in Ukraine and broad-based inflation concerns. However, the Diamond Resorts acquisition could allow for significant upside as demand for vacation ownership rebounds about the longer term.
In a previous article, I made the argument that Hilton Grand Vacations (NYSE:HGV) could see upside to a target price of $50 on the basis of 20% yearly growth in EPS per year over the next five years.
The stock saw strong growth past this level since July: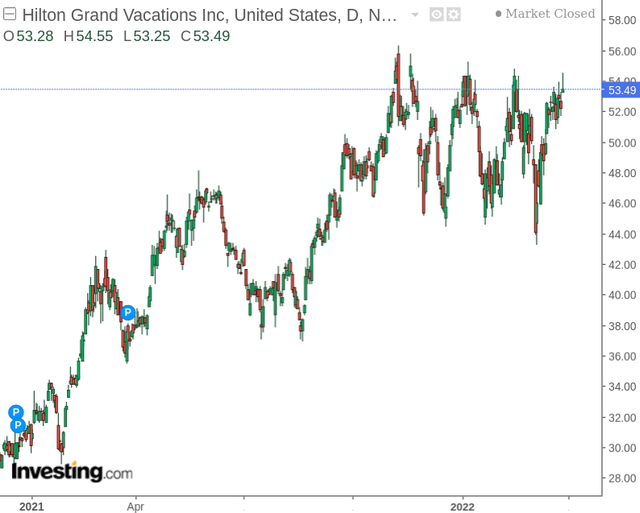 The purpose of this article is to assess whether Hilton Grand Vacations could still see significant upside in light of recent performance.
Performance
When looking at earnings growth over the past year, we can see that the company has made a strong rebound over the last five quarters:
| | | | | | |
| --- | --- | --- | --- | --- | --- |
| quarter | Q4 2020 | Q1 2021 | Q2 2021 | Q3 2021 | Q4 2021 |
| Diluted earnings per share | (1.81) | (0.08) | 0.10 | 0.90 | 0.62 |
Source: Figures sourced from Hilton Grand Vacations Quarterly Reports
While earnings have seen a recovery, the earnings figure of $1.75 for 2021 still remains below the 2019 figure of $2.42.

Based on the previous assumption of 20% earnings growth per year – Hilton Grand Vacations would be expected to reach this level of earnings once again by 2023:

In this regard, while the company saw an earnings figure of just slightly higher than my projected figure of $1.70 for 2021 – this does mean that the company is likely going to need to continue to show significant earnings growth to justify the current price.
From a balance sheet standpoint, we can see that the company's net debt has increased significantly in 2021 as the company has had to increase expenditure to finance the rebound in booking demand. We can see that cash and cash equivalents have remained virtually constant – meaning that the cash to net debt ratio has decreased from 0.36 in 2020 to 0.14 in 2021.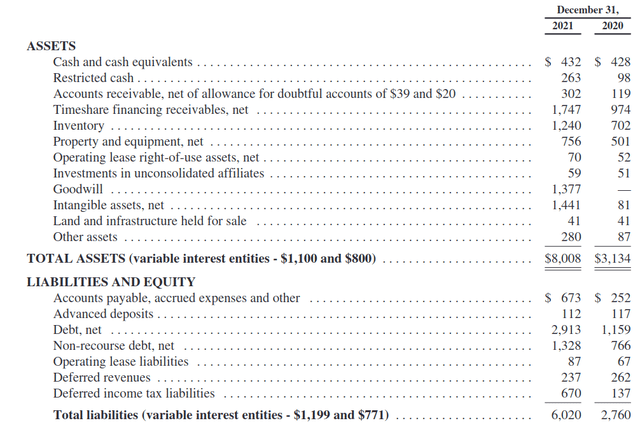 This might have the potential to hinder earnings growth as a significant portion of those earnings will need to go towards servicing such debt, and revenue will need to continue growing strongly to compensate for this.
Looking Forward
Taking the company's recent financial performance into account, investors are likely to increasingly look for further earnings growth to justify a price range above $50.
In terms of potential growth prospects going forward, travel stocks have generally seen downward pressure as a result of the ongoing situation in Ukraine. Indeed, this may place short to medium-term pressure on demand for timeshares across Europe as potential customers may avoid the continent until the situation becomes more stable.
With that being said, the North American market still accounts for a large portion of the company's overall business and in this regard I anticipate that any pressure on revenues as a result of lower European business is likely to be limited.
As far as what could have the potential to drive earnings growth further, Hilton Grand Vacations' acquisition of Diamond Resorts allows the company access to 20 new markets along with providing an expected $125 million in run-rate cost synergies in the first two years. Hilton Grand Vacations also gains access to Diamond Resorts' 92 leisure resorts to complement the company's own existing 62 upscale properties.
We have already seen a strong rebound in the company's overall sales trends in terms of HGV growth:

From this standpoint, the acquisition of Diamond Resorts has allowed Hilton Grand Vacations to become the leading vacation ownership company worldwide. Should we see demand continue to rebound, then this gives Hilton Grand Vacations a great opportunity to scale revenue growth which would in turn boost earnings growth.
The main risk to Hilton Grand Vacations at this time is the potential for COVID to disrupt travel plans once again – although the industry has been showing slow but sure signs of recovery over the past two years. Moreover, it remains to be seen whether the anticipated cost synergies from the Diamond Resorts acquisition will ultimately materialize. However, there is likely to be upside in the event of a continued rebound in demand.
conclusion
To conclude, Hilton Grand Vacations will need to show evidence of further earnings growth to justify continued upside past the $50 mark. With the situation in Ukraine having brought some uncertainty back to the industry along with broader inflation concerns, the stock itself could see some downward pressure in the short-to-medium term.
However, the acquisition of Diamond Resorts has the potential to solidify the company's position as a leading vacation ownership company, which is likely to lead to greater upside over the longer-term assuming further rebounds in demand.
Additional disclosure: This article is written on an "as is" basis and without warranty. The content represents my opinion only and in no way constitutes professional investment advice. It is the responsibility of the reader to conduct their due diligence and seek investment advice from a licensed professional before making any investment decisions. The author disclaims all liability for any actions taken based on the information contained in this article.