Alaska Airlines has a unique set of lounges amongst its US network, lounges well known for their pancake machine. These Alaska Airlines lounges allow first class passengers and pass-paying passengers a calming place to relax and work with quality meals and beverages as a premium passenger experience at the airport. This is versus the hi polloi's experiences with crowded gate areas and long lines.
As Todd Traynor-Corey, managing director of guest products at Alaska Airlines said in a February 2022 statement;
"We want our Lounge members, oneworld elite members, those traveling on a paid first class ticket, and day pass holders to feel pampered when they step inside."
What is Alaska Airlines definition of pampered?
An Alaska Airlines passenger walking into a calm, welcoming Alaska Lounge
Photo: Alaska Airlines
When one goes into the Alaska Airlines lounge, one can expect standards of civility and class. Yes, to enter, either one pays a first class ticket, a $60 one-day pass, or an annual membership fee based on travel with Alaska Airlines, whether a customer desires to access only Alaska Airlines lounges or Alaska Airlines lounges and partner lounges all year.
You can use the arrival airport Alaska Airlines lounge, the departure Alaska Airlines lounge, or both on the same day of travel. Or any Alaska Airlines lounge in the same airport regardless of the airport gate you are using.
Once you're in the Alaska Airlines lounge of your choice, you can expect free WiFi and many power outlets to work. Plus a place to relax to watch either the airport's ground and flight operations or television. There are also concierges available to help with seating, upgrade requests, and travel recommendations. Oh, and good food.
Beverage and food options in the Alaska Airlines lounges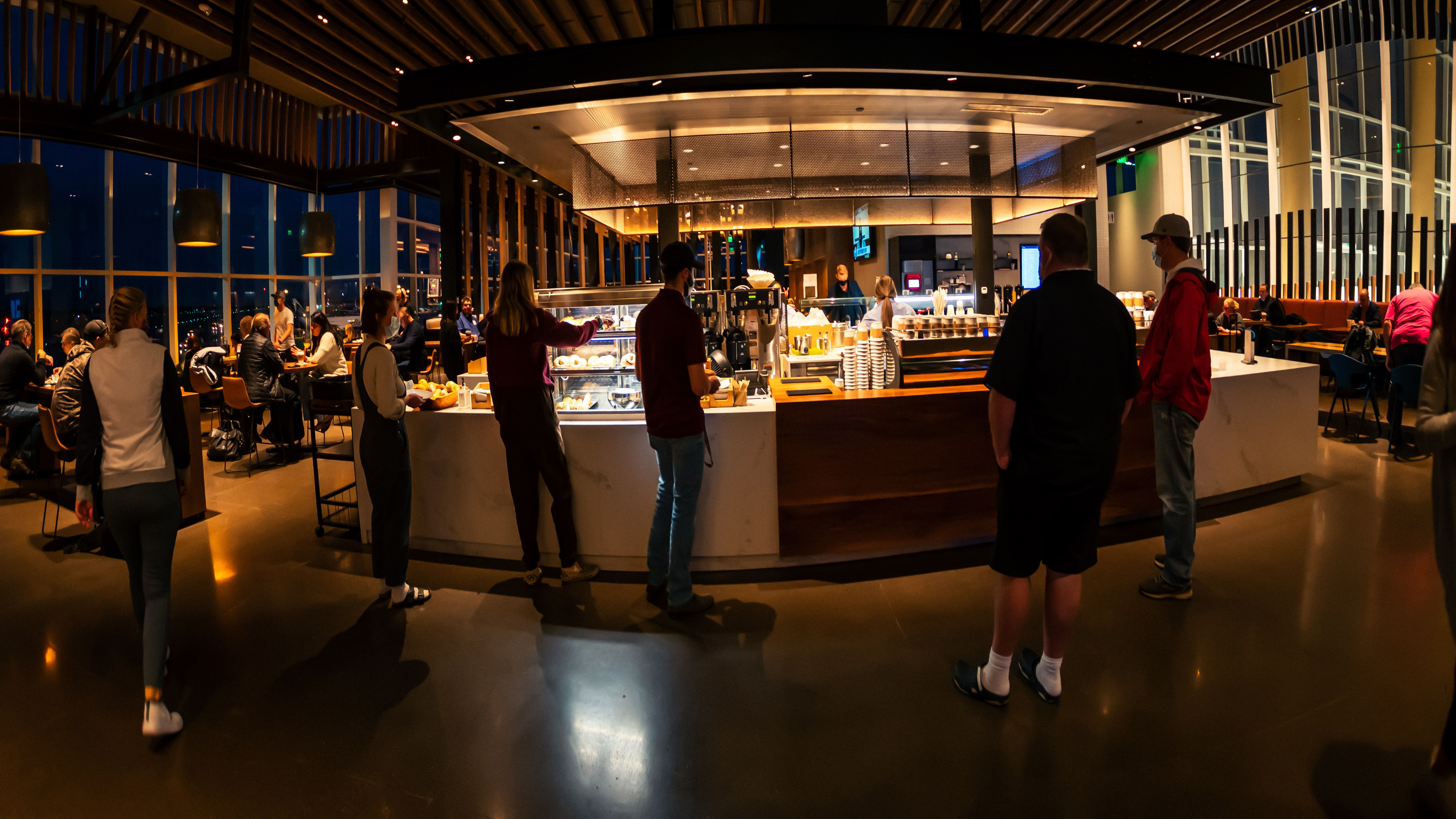 Alaska Airlines SeaTac N Terminal Lounge Guests Helping Themselves to Breakfast
Photo: AvgeekJoe Productions
Yes, there are a lot of beverage and food options in the Alaska Airlines lounges. For beverages, for starters, there's Starbucks Pike Place Roast Coffee available in both standard and decaf, Starbucks espressos, Starbucks lattes, Teavana teas, orange juice Coca-Cola, Diet Coke, and yes, many alcoholic beverage options.
For food there are pastries, yogurt, granola, steel-cut oatmeal, salads, soups, an egg and brioche sandwich, omelets, flatbread pizza, chicken pesto panini, a Korean rice bowl, and cookies for starters. Some of these meals do come with an additional charge, though.
Of course, a pancake machine
No story about the Alaska Airlines lounges can be written without mentioning the pancake machine. A unique device that takes a pre-made batter to dispense pancakes on-demand with one button.
According to a TheDailyMeal.com article back in 2015, Alaska Airlines was approached by Popcake Machines where the machines would come free… if Alaska Airlines would buy the batter exclusively from Popcake. For Jennifer Freeberg-Huss, the then manager of the lounges,
"We were totally up for it; it was kind of a no brainer … surpass the competition and find new ways to set the Board Rooms apart."
Now some Alaska Airlines fans – including the author – do what they can to arrange a trip to the Alaska Lounge pancake machine when possible. The pancakes taste decent and naturally sweet, especially with the syrup condiment poured on.
Where are the Alaska Airlines lounges?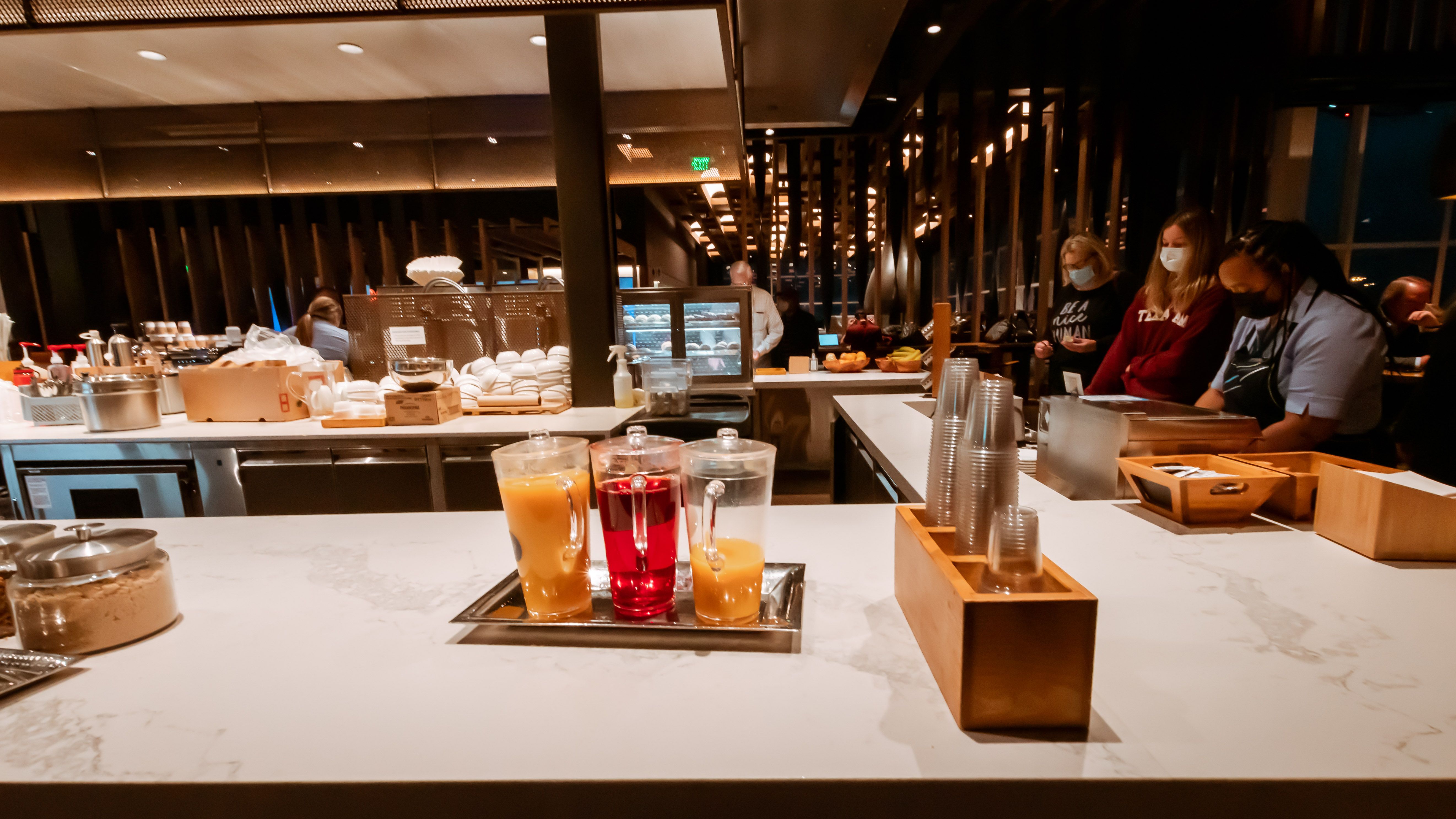 Where will you find an Alaska Airlines lounge?
Photo: AvgeekJoe Productions
Alaska Airlines has branded lounges as per the below list:
There are Alaska Airlines partnerships with other lounges at other airports, which one can review on the Alaska Airlines website.
Have you been to an Alaska Airlines lounge? Does this article make you want to partake? Let us know in the comments, please.
Hot On JetBlue's Heels: Delta Adds Kansas City & Milwaukee Routes From New York JFK
Read Next
About The Author